If you leave campus on the east side (exiting onto University Parkway near Worrell Professional Center and the water tower), you can see through the woods the construction of "The Barn," which will be a new on-campus venue for students to use for parties and entertainment.  The site is located near a wooded area that has been the cross country trails (those are being rerouted). 
The Barn will be a large structure with a stage for performing (so students can bring bands to campus), a large area for dancing, a sort of mezzanine, and there is a spillover balcony outdoors for mixing and mingling.  It looks like it is going to be a fantastic venue.  When completed (which should be April of this year), students will have their very own party and social space within walking distance of all the dorms.  During the hiatus when The Barn is being built, there have been parties and bands coming to a large tent in Reynolda Village, which has been a good, walkable alternative to off campus entertainment.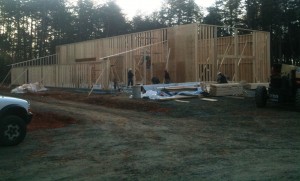 Here is a picture of it mid-construction.  This picture is a little old – it's much more framed out now.  Now that the walls are visible and the place is taking shape, there's more and more excitement about it being completed and ready for use.