It's Friday morning, bright and sunny.  Normally students are very happy on Fridays, because their work week is almost over and they will have time to do fun things during the weekend.  Happily, the weather forecast says it will be sunny and high 50s this weekend, even reaching into the low 60s by next week. After all the cold that we've had in recent weeks, it will be very welcome weather.  If it turns out to be that warm, we'll see many students in shorts, and people sunning themselves on Davis Field (also referred to as "Davis Beach" by students due to people in bathing suits tanning during warm days).  It promises to be a good weekend.
Picked up a copy of the Old Gold and Black campus newspaper this morning.  For some reason, this week's edition is not up online yet, but if you check later in the day or the weekend it will probably be updated.  On the front page, the lead story is about Coach Walter donating is kidney to his player Kevin Jordan.  Also stories about "Police Reinvigorate Campus Vision" (which is trying to make more conversational connections between students and campus police officers about campus safety), a recap of the recent Career Fair, and an upcoming panel discussion on the legacy of Agent Orange, which had been used in the Vietnam War.  There is also a recap of the Syrian ambassador's visit, which sounded like it got a little heated during the Q&A portion.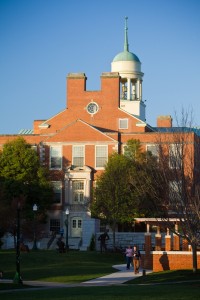 Finally, there is some sort of bird migration event happening on campus.  There are tons and tons of black birds flying in large flocks over the Quad and outside of the ZSR Library.  There is a lot of flying and squawking and students walking quickly underneath to try and avoid any bird fall-out.  If memory serves, this is something that happens every spring here for a couple of weeks, and perhaps it has to do with some sort of berry or buds on our trees.  But it is a little daunting to be walking underneath a large swarm of birds.