Our Parent Programs office received an email yesterday about what students can do for Spring Break (other than going to Cancun or some tropical destination).  There is a program called WAB (Wake Alternative Break) that is certainly worth some strong consideration, particularly if your student is volunteer service oriented.
The following is from the Volunteer Services web site, which sponsors WAB.
"WAB organizes annual domestic, service-related spring break trips for Wake Forest students. There are usually 5-7 different WAB trips every year, and each group volunteers in a different area in the United States. During the trips, students engage in short-term service projects that typically last 7 -9 days. In addition to volunteering, students get a chance to explore new cities and towns during small group excursions.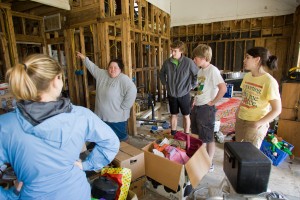 While different WAB trips are offered each year, past trips have included: volunteering at Yellowstone National Park, working with Habitat for Humanity in Myrtle Beach, SC, completing a service project for the Humane Society in Hilton Head, SC, and helping with hurricane relief projects in New Orleans, LA. If you are interested in leading or participating in a WAB trip, please contact us."
So if you or your student are thinking about Spring Break options, this is a great place to start.