It is a gray and windy day this morning on the Quad.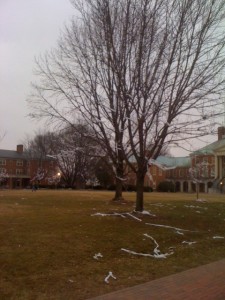 For the first time in too long a time, the Quad is rolled.  Members of our Facilities team are already out there trying to corral the toilet paper into bags and dispose of them.  Which is a little hard to do in a stiff wind.
Why is the Quad rolled?  Wake Forest beat UVA this weekend in a scrappy game at the Joel, winning 76-71.  It was our first ACC win all season, and you'd have to go back a long way in the record books to remember when we'd last had a season of this much struggle.  Our current students don't have that kind of institutional memory, but alumni who have been bleeding black and gold for decades do.  And so this win is an especially good one.
While some diehards would argue that you only should roll the Quad after a huge victory over a longtime rival like Duke or UNC, this Deacon at least thinks it was important to get some TP on the Quad and start feeling good about our team.
In his post-game comments, Coach Bzdelik first thanked the fans in the stands who hung with the team even in its troubles and who provided great noise and energy in the game when we need it.  Our student section, while sparser than some might like to have seen, did a very good job cheering and making noise.  Special props to members of our band, whose late-game performances of the fight song (especially on rotation at each side of the court during a time out) helped get the crowd on its feet.
And congratulations to our team, for slogging through what has been at best a difficult season and continuing to bring their all to the court.  Let's hope there are many more occasions to roll the Quad in coming weeks.  Go Deacs!