Like the rest of the Wake Forest family, I awoke today to the news that campus is closed today because of the winter weather. Looking out my window, I do not see a ton of snow, but there was supposed to have been freezing rain and ice overnight, which is said to continue throughout the afternoon. When I touched the snow on my deck, it did have that familiar *crunch* that comes from having had freezing rain on top of snow.  And it is very, very cold outside, so any freezing rain we do get is going to stay frozen.
There doesn't appear to be enough snow at this point to warrant students having a giant snowball fight, or to make a huge snowman on the Quad (although certainly they may try – it's pretty typical for students to want to do something creative in the snow).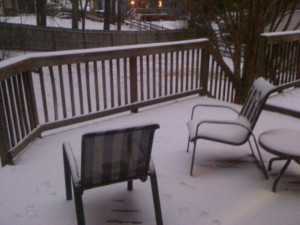 Here's the view out my back door, about 3 miles from campus.