The Inside WFU web page is promoting its spring Book Club for faculty and students:
"Faculty and staff are invited to join students in the new Campus Life book club. Faculty and staff can pick up a free copy of Professor David Coates' book "Answering Back: Liberal Responses to Conservative Arguments." Send an e-mail to haennml@nullwfu.edu if you are interested in reading the book and hosting a discussion group for students during the first two weeks of February."
This is a great example of how the faculty and staff at Wake Forest are engaged and involved with students beyond the classroom. And it is a wonderful and pressure-free way for your students to interact with faculty in a casual setting. If you think your students would enjoy this type of dialogue, please recommend the book club to them.
F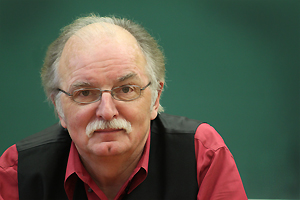 or those not familiar with Professor Coates, here is his bio from the Political Science web site: "David Coates holds the Worrell Chair in Anglo-American Studies. Born in the United Kingdom and educated at the universities of York and Oxford, he came to Wake Forest University in 1999, having previously held personal chairs at the universities of Leeds (in contemporary political economy) and Manchester (in labor studies). He has written extensively on UK labor politics, contemporary political economy and US public policy."
Wherever your student's interests lie – be it political science or neuropsychology or French literature – encourage them to find a professor they really connect with and respect. Wake Forest is at its best when its community members engage with each other – in debate, in dialogue, in friendship, in reflection, or just in fun.