Since the holidays are just around the corner, it feels appropriate to share one of Wake Forest's most beloved traditions, the Lovefeast.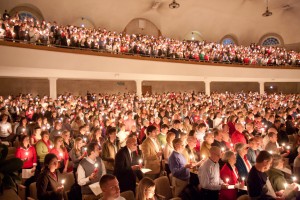 The Christmas Lovefeast and candlelight service is a custom that originated in Europe in 1747. The first lovefeast in North Carolina was held on the evening of the arrival of the Moravians at Bethabarain 1753. Wake Forest began holding an annual Christmas Lovefeast on campus in 1965.  It was initiated by a student, with help from the Office of the Chaplain.
The Lovefeast brings together students, faculty, alumni and members of the community for an evening of Christmas music, reflections on the season, a shared "meal" of coffee and Moravian buns, and the lighting of candles and singing of traditional hymns. It is one of the traditions on campus that many students and alumni cherish.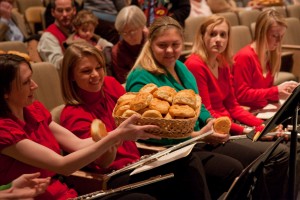 To give you a sense of attendance, the 2009 gathering in Wait Chapel was replete with servings of coffee (90 gallons) and buns (2,100).
The Lovefeast will be held this year on Sunday, December 5th at 8:00 p.m. in Wait Chapel. It is free and open to the public, and the chapel does fill, so plan to arrive early.
There is a gorgeous multimedia slide show onlinewith images from the 2009 Lovefeast, which will give parents an idea of what this special event feels like.