It is a rainy day on campus – about 40 degrees this morning. Finals are drawing near, and that means that students' stress levels are starting to rise. Nothing helps stress better than a little TLC from Mom and Dad – so if you want to send your student a little something to wish them luck on finals, consider using our student-run CampusCakes.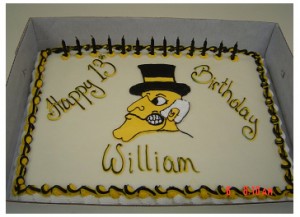 CampusCakes is a cake delivery service that allows parents and family members to order and send a cake to their student without having to worry about shipping, finding their address, or making sure the student actually received it.  The students at CampusCakes drop off baked goods right at their doors – literally. CampusCakes partners with Dewey's Bakery, which is famous in the Winston-Salem area and makes arguably the best baked goods in town. 
While many parents probably consider CampusCakes for their student's birthday, they can also do Congratulations cakes, Good Luck cakes, and more. So if your student needs a pick me up and a sweet treat during the lead up to finals, think about a CampusCakes cake.
Parents and family members can either order by email at campuscakes@nullyahoo.com, or via the CampusCakes website. If you order through their website, you are automatically emailed a bill from the CampusCakes PayPal system.  If parents email to set up an order, CampusCakes will personally email them the PayPal bill.
Please be sure to leave your student's phone number so that CampusCakes can ensure the student is in their room so the cake can be delivered.