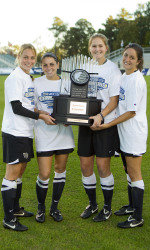 If you missed it this weekend, the Lady Deacs of women's soccer are the new ACC Champions.
Here's a recap from wakeforestsports.com:
"Goalkeeper Aubrey Bledsoe saved three Maryland penalty kicks and the Demon Deacons made all three of their attempts to give the Wake Forest women's soccer team a 3-1 shootout win and its first-ever ACC Championship on Sunday afternoon at WakeMed Soccer Park in Cary, N.C.
The Deacons and Terrapins had tied 1-1 through regulation and overtime, leaving the conference title to be decided by kicks from the penalty spot. Wake's Alisha Woodson and Maryland's Sade Ayinde each converted their team's first attempts, but Bledsoe stopped the next three Terrapin tries, and Katie Stengel and Bianca D'Agostino scored for the Deacons, to give Wake Forest the conference crown."
It's always a point of great pride to be conference champions, and there was some justifiable Quad-rolling in celebration yesterday.  Way to go, Lady Deacs!  Now we wait to hear the selections for the NCAA Tournament, which will be announced today at 4:30 on ESPNU.