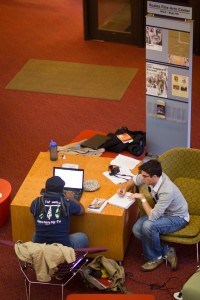 It's November, a month left for school. Students are starting to see the end of the semester on the horizon. For those students (and parents) who are thinking about finals already and returning home, you may want to check this out. The Committee on Academic Affairs approves the final exam schedule each academic year. If you wish to see the Exam_Schedule_for_Fall_2010__Spring_2011, it is available online. Very useful for knowing when your student is scheduled for exams, which hopefully will help with travel plans.  Speaking of finals and studying, I love this picture of students studying together in the Scales Fine Arts Center lobby.
Today is the Enjoy the Gap fair on campus starting at 10 am in the Benson University Center. Its web site asks: "Have you ever considered spending a week, month, or year serving a community in need?  Would you considering being an educational volunteer with the Peace Corps?  Are you interested in making a 2 year commitment to Teach for America?  Do you think you can make a difference in a needy Appalachian community?
If you answered yes to any of those questions, join us for the Enjoy the Gap fair on November 10th to learn about your options! There are plenty of options to serve our community, country and world, and it's a great way to build more skills and experience before entering the work force." See the full web site here.
A lot of the beautiful fall leaves are coming down now. On windy days, there can be an almost ticker-tape-parade like feel to the campus, as we have a lot of trees with long, thin leaves that fall like big confetti. Our Facilities and Campus Services team does a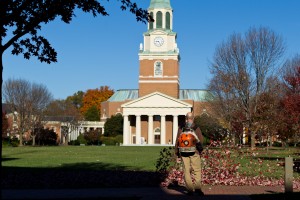 great job keeping the walkways and the Quad clear. Here's a candid of some of their handiwork. 
Looking ahead to the holidays, there is going to be a United Way auction on December 2nd from 2-4 p.m. in Benson 401. Students are invited to come and bid on silent and live auction items. This would be a great way for them to do some holiday shopping for friends and family, with 100% of the proceeds going to the United Way. Auction items will be anything from gift cards to restaurants and stores, items made by local craftsmen and artists, athletic tickets and more.