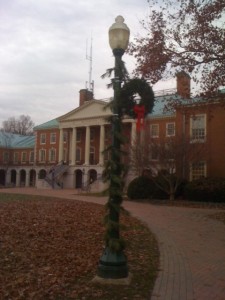 The Thanksgiving break is over and students are back on campus again. It's a bit of a subdued day – gray and overcast, and is noticeably colder, maybe high of 50 today. There's about a week left for classes and then the prep for finals begins.
This morning on the Quad there are visible signs of the holidays. The giant Moravian star is up on Wait Chapel and there were also signs for the Lighting of the Quad, which will take place December 1st and is usually a lovely event.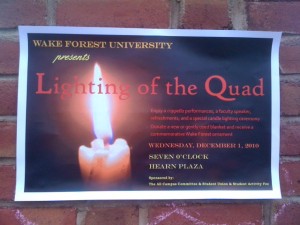 Wreaths with bows are beginning to go up on the lampposts as well. In normal years, there are usually wreaths on the windows of Reynolda, and a great Christmas display in the rotunda of the Benson Center. I'll be sure to walk over there sometime this week and will post pictures when ready.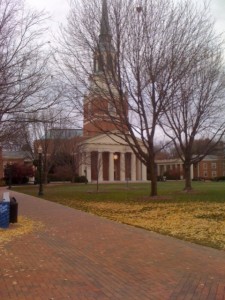 This is not a great picture of the Moravian Star on the Chapel
but you can see a good one on the main Parents' Page.