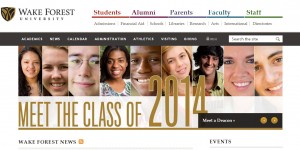 The new and improved Wake Forest web site is live, and there are some great new features and pages to note:
Meet the Class of 2014 – learn about some of the newest students on our campus.  Is your student featured here?
Inside WFU – this is a web site dedicated to internal news on campus and information for staff, but it also has profiles of staff and faculty, and a 'Top Five with Five," which asks a question of members of the campus community (this week's is 'which First Year Seminar would you like to take?')
News– for those of you who want to receive news updates, visit the News page. At the far right column of the page, there is a section entitled "WFU News Center" which will allow you to subscribe to the news blog, news email, or follow on Facebook or Twitter.