Main Content
I received an email the other day from the Office of Academic advising about an exciting opportunity for students to fulfill a divisional requirement this summer in London – under the tutelage of an excellent teacher-scholar here, Christa Colyer of Chemistry (profiled here in 2009 for her work with student research).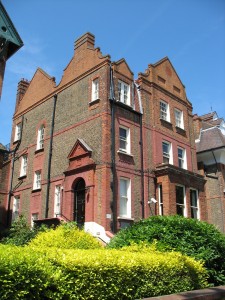 Dr. Colyer will be teaching CHM 108 & 108L "Everyday Chemistry" at the Worrell House in London next summer (July 01 – 29, 2011). This is a 4-hr course that satisfies a division V graduation requirement. 
While CHM 108/108L will also be offered here on campus during the spring '11 semester, Dr. Colyer wanted to make the special summer-abroad offering known to students in case this might affect their registration choices for the spring.  For more information about the Worrell House, Summer '11 CHM 108/108L offering, please do not hesitate to contact her at colyercl@nullwfu.edu.
The Worrell House is one of Wake Forest's residential study abroad houses. Here's a brief history and description from the Center for International Studies page:
"In 1977, Wake Forest purchased a large brick house in Hampstead for its London program. The house, a gift from Eugene and Ann Worrell, was named in their honor. Formerly known as Morven House, the building served as the home and studio of landscape painter Charles Edward Johnson.
Worrell House has four stories and is situated on Steele's Road (named for essayist Sir Richard Steele) in a sector of suburban London known as Hampstead. Hampstead is primarily a residential neighborhood and home to Hampstead Heath, Regent's Park, Primrose Hill, and the Keats Cottage. Two underground tube stops are within a 5-10 minute walk."
As an aside, several of my best friends from Wake Forest studied at the Worrell House, and they unanimously say that it was an incredible semester and the friendships they formed with their WFU companions are unparalleled. Parents, as your students consider studying abroad, urge them to look into Worrell or our other residential programs in Venice or Vienna.
Recent Posts
September 25, 2020

September 24, 2020

September 23, 2020