Main Content
Last night Deloitte Consulting was on campus to judge a case competition with junior Wake Forest business students. Interested students formed teams of four people and were given a hypothetical case on how to help create a new federal agency following an event of domestic terrorism on a US power plant.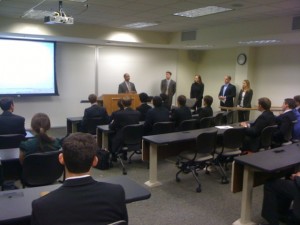 The students' mission was to assist the new federal agency in developing an organizational strategy.  The students received the case materials a week ago, and had all week to construct their recommended solution and strategy to make the agency operational. They turned in their presentations at 3 pm yesterday, and each of the nine teams had a chance to present their solution to judging groups composed of Deloitte staff members, Wake Forest faculty and administrators.  I was lucky enough to be one of the judges.
The students all came dressed in business attire and gave their presentations to the judging groups: 15 minutes of formal remarks, followed by Q&A from the judges. And having seen three of the team presentations, I have to say that our students are going to leave here following graduation remarkably well prepared to face big challenges and put their best critical thought forward.
Of the groups whose presentations I heard, I was tremendously impressed with their ability to use reason and logic to attack this case. Some of the groups did considerable work studying past federal agency creations and US power supply structure. They demonstrated their skills in out-of-the-box thinking, current events/cultural awareness, and teamwork. I was so proud of all of our students.
There was a winning team – who will go to the Deloitte National Case Competition in November – and a runner up team. However, everyone who participated is to be commended. They all worked incredibly hard to bring inventive and insightful solutions to the table. They practiced public speaking skills and fielded a lot of tough questions. They networked. And I think I am safe to say they impressed the Deloitte consultants present.
Recent Posts
September 25, 2020

September 24, 2020

September 23, 2020