Main Content
Today is a game day. First football game of the season at 6:30 at BB&T Field at Groves Stadium. Students are always pumped for the first game.
Dress for football games varies widely. For those students who are a part of the Screamin Demons group, they all wear their Screamin Demons tshirts and sit in a section together. It's great to see a huge block of students shouting and cheering together. Many Wake Forest students also subscribe to the tradition of wearing nicer clothes to the games – often sundresses for women and khakis (or seersucker, if before Labor Day) for the men.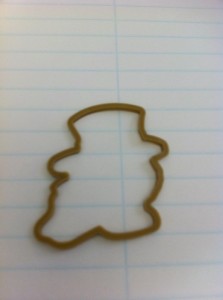 I don't know who to credit yet, but some group on campus is doing this new program called 'Spirit Days' where they are walking around giving away stuff like this to people wearing black and gold. This bracelet is of the 'Silly Bandz' variety and is shaped like a Deacon Head. The Spirit Days folks were headed to the Pit earlier to see who they find in black and gold.
School rivalries do exist here. Wake Foresters often refer to us as LOWF (Little Ol' Wake Forest), because for a school of this size and scope, other teams often believe we can't be competitive, only to find themselves vanquished on the field of play. Wake Forest's biggest rivals are Carolina (UNC Chapel Hill) and Duke. On a home game day, some students would tell you it's blasphemy to wear blue.
Recent Posts
April 9, 2020

April 8, 2020

April 7, 2020