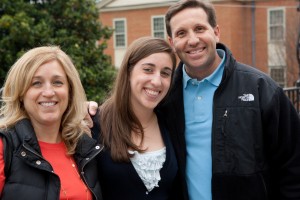 All across the country – and maybe even the world – parents are preparing to come to Wake Forest for Family Weekend. And while the weather today is unpleasant (rainy and cooler), the forecast for the weekend is glorious. Don't forget to pack your gold and black clothes so you can show your school spirit!
For those of you arriving for Family Weekend, you'll want to make sure to go to Family Weekend Registration (in the Benson Center). Registration staff will begin welcoming families at noon on Friday in the Benson University Center Rotunda. Registered families will be able to pick up registration packets, pre-purchased football and event tickets, and t-shirts at this time. Families may also wish to visit Undergraduate Research Day, taking place in Benson room 401 from 3-5 pm. There is a full schedule of events for the weekend, and when you check in at Registration you can ask the Family Weekend staff any questions you may have.
Parents, be prepared for your students to want to go out to eat and to go shopping – two of Family Weekend's most prized activities. If you haven't yet discovered mysavu.com, the student entrepreneurial web site that advertises student discounts at local businesses, you might want to start there in considering places to take your student to eat. Or ask your student his or her favorite place. 
On behalf of the Office of Parent Programs, we wish you safe travels to campus and a great Family Weekend.  Go Deacs!