Main Content
Yesterday I had lunch with a group of students (largely freshmen and sophomores) and we discussed everything from the weather to campus life to the differences in dorms. These were all terrific young men and women, and clearly very excited to be at Wake Forest. Happily, this group all seemed to be doing well and they have settled in nicely to campus life.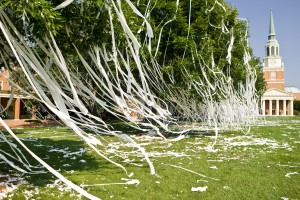 At some point the talk turned to college sports – and the various rivalries that exist. Some alumni would tell you that Duke is Wake Forest's greatest rival and most disliked opponent; others would tell you that it is UNC Chapel Hill. We all agreed, however, that the most satisfying Quad Rollings come after a win against either of these teams.

In other sports-related news, ESPN commentator and Duke alumnus Jay Bilas is coming to campus on October 7 as part of our Voices of Our Time speaker series.  Bilas will tip off Wake Forest's Homecoming weekend as he shares his insights about the state of college athletics and the NCAA. President Hatch and Athletic Director Ron Wellman will join Bilas in the conversation.
Voices of Our Time is free and open to the public. So parents, encourage your students to attend – and join us if you are able. This will no doubt be a very interesting evening!
Recent Posts
April 9, 2020

April 8, 2020

April 7, 2020