Important weather news: mid-afternoon, the National Weather Service issued a tornado watch for the Winston-Salem/Forsyth County area. Around 3:30 this became a tornado warning. We were downgraded to a tornado watch around 3:50 pm. The University recommends that campus community members monitor local weather reports for the latest information, and keep cell phones charged and set to receive calls and text messages. See Wake Alert for updates.
There's also some Commencement news today for our P'22s:
Today we announced our Commencement and Baccalaureate speakers: Van Jones, CNN host and Dream Corps founder, will deliver Wake Forest University's commencement address on Monday, May 16. The Baccalaureate speaker will be Eddie S. Glaude Jr., the James S. McDonnell Distinguished University Professor and Chair of the Department of African American Studies at Princeton University. Baccalaureate will take place on Sunday morning, May 15. Read more on the Wake Forest University news website.
The Office of Alumni Engagement is thrilled to announce the return of Senior So Dear, their annual Commencement weekend kick-off celebration welcoming seniors into the alumni family. Graduates and their families are invited to drop-in to the Reynolds Gym Living Room on Saturday, May 14th from 4-6 p.m. for food, drinks, and music. A short program at 5:15 p.m. will feature a special toast and congratulatory remarks from Provost Kersh ('86). Register here. Note: Senior So Dear is open to all graduating families (not just alumni families).
For those of you who like to see how the sausage is made, keep an eye out on our Quad Cam all of next week, as construction will be taking place in preparation for Commencement. This includes the building of the Commencement stage, the placing of over 10,000 chairs in beautiful, neat, arrow-straight rows on the Quad, and more. The Quad Cam ought to give you a glimpse of the action as it happens.
In other news, it is no secret that I am a huge fangirl for our ZSR Library. And apparently I am not the only fan. One of my colleagues shared this photo, which is a thank you from a student to our wonderful ZSR staff. Click on the photo to enlarge and read it. I don't know who this student is, but I want to thank them for taking the time to write this message. Students probably have no idea how meaningful a simple gesture like this.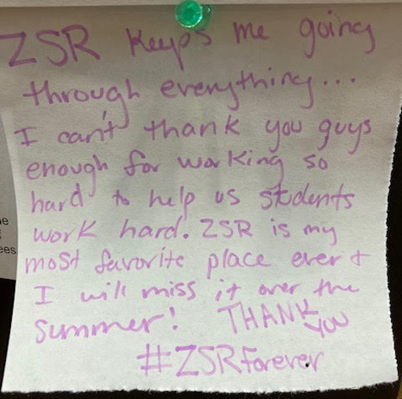 For families who are looking to continue their education, I just saw an email with this opportunity: "Wake Forest Executive Education is pleased to announce that Analytics for Leaders was recently featured by Fortune magazine as 'One of ten science and business analytics courses that should be on every executive's radar.'" Read more here, or reserve your seat.
As we finish with finals week, I wish your '23-'25 Deacs safe travels home. And for our '22s, I wish them a great week between finals and Commencement. May they make some final, wonderful memories with their classmates!
— by Betsy Chapman, Ph.D. ('92, MA '94)