Main Content
It's been a gross weather week here: raining since Tuesday and very cold – in the 50s. So today's Daily Deac will be short and [bitter]sweet.
Our very own Ken Bennett had a chance to observe our move out process and document a photostory about what he saw. You can view that here.
For those families who will be coming to campus with your students in the coming weeks, please remember to bring your masks, observe social distancing, and wash your hands, in the spirit of the 3 W's graphic below.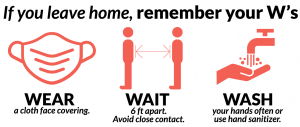 Finally, Dr. Hatch sent a message out today to students, faculty, and staff regarding Title IX; read it here. As with all campuswide emails, they are archived on our Family News page.
— by Betsy Chapman, Ph.D. ('92, MA '94)
Recent Posts
January 21, 2021

January 20, 2021

January 19, 2021