Main Content
Administrators get the end-of-the-semester-crazies too: yesterday I listed the wrong last name for our wonderful guest blogger. She is Emily Beeland ('19) and she deserves credit for some great blogging over the last few semesters. Wet noodle for me.
One of the traditions of finals is that there is an Anonymous Library Decorating Committee that turns the atrium of the ZSR into a festive place with lots of fun decorations. The theme of this semester is Pixar Studios, and there are Minions, the house from Up, and other Pixar characters,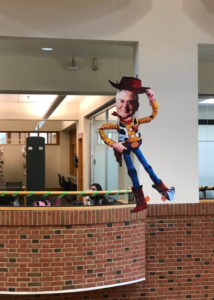 including Dr. Hatch as Woody from Toy Story. Check out the ZSR Flickr site to see them.
Finals time is also meme time for me. Here are some finals/academic jokes to give you a chuckle.
— by Betsy Chapman '92, MA '94
Recent Posts
January 21, 2021

January 20, 2021

January 19, 2021