Main Content
It was cloudy yesterday, and has been drizzly at times today. Here are a few pictures to give you a sense of it.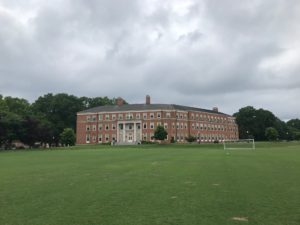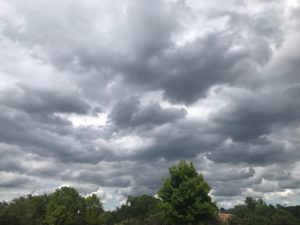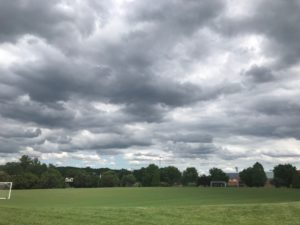 Looks like tomorrow will be real and proper rain – and let's get it all out of our system before Commencement. For those in the Daily Deacdom who are so inclined, now is the time to send all prayers, supplications, and good wishes to the universe to give us ideal weather for Commencement: low 70s, sun with occasional clouds, and a gentle breeze. My P'92 mom would call this "warm with gentle breezes."
Campus is definitely emptier today than it was yesterday. I saw a lot of parents/family members and students walking around campus together, clearly in the process of moving. I also happened to see not one but two pre-Commencement photos. One young woman was on the Mag Patio in cap and gown, with a friend taking her picture. The other was a group of students right at mid Quad, in caps and gowns, posing with Wait Chapel behind them. I wish I could have gotten a picture of this, because they did one funny shot where they all jumped up together and struck a pose. It was a lot like this kind of shot – only with caps and gowns.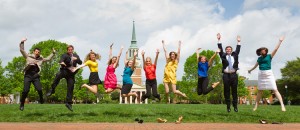 It's such fun to stumble upon these little moments.
And one more plug for good weather wishes. Say it with me: warm with gentle breezes.
— by Betsy Chapman '92, MA '94
Recent Posts
August 7, 2020

August 6, 2020

August 5, 2020