Main Content
Most of our students have departed campus (save for some seniors perhaps who did not go to post-exams at the beach). It feels empty without them, but in a week we will be celebrating one of the best days of the WFU year: Commencement.
Dr. Hatch sent an end of the semester reflection out to the campus community this morning:
"As another academic year comes to a close and we break from our normal rhythm, we have an opportunity to reflect on our experiences. First, let me extend my congratulations to the Class of 2019 for their many accomplishments and contributions to our community. We look forward to celebrating with you in the coming days.
Wake Forest remains a work in progress. I have learned a great deal over the course of the year as I have sat with students, faculty and staff, especially those from underrepresented groups. I have listened intently about their lives at Wake Forest, including explicit examples of discrimination and overt racism. I am grateful to so many for their honesty and courage in sharing these painful experiences. These conversations have deepened my understanding of how, together, we must move forward, and I feel it is important to conclude this semester with definitive actions toward improvement."
You can read his full message here.
Some of you longtime Daily Deac-ers might recall that we had been running a periodic Where in the World Are Wake Foresters? segment, which consisted of readers sending in pictures of themselves in WFU attire (could be anywhere – vacation, volunteering, hometown landmark, wherever), and then I would post them in the blog.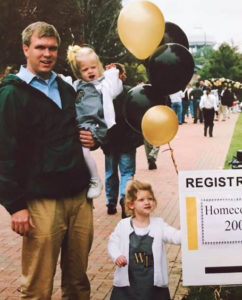 A week or so ago, I got this charming picture from an alumni family, Tammi ('94, P'23) and Brant Hellwig ('94, JD '97, P'23). It shows them at Homecoming 2004, with their children in WFU attire. The older of the two, Emily (standing on the Quad and playing with the balloons) will be a member of the Class of 2023! I just loved this picture, and the story behind it. I imagine that none of them knew at the time that Emily would end up at WFU as a student, though they may have hoped 🙂 [Aside: I was pregnant with Class of 2027 at the 2004 Homecoming, so this is a terrifying reminder that my time as a college parent is coming in 4 short years.] Many thanks to the Hellwigs for giving me permission to share this story.
Also wanted to make a clarification about the bag checking policy for Commencement Weekend. We had a parent ask a great question this week – is bag check like a coat check (where the bag is taken away and stored in a closet), or does bag check mean 'security team opens your bag and looks through it and then lets you take it with you'? It is the latter – your bag will be opened and searched, and then once deemed secure, you pick up your bag and take it with you to the Quad. Very similar to what happens if you go to an athletic event or a concert or something – you open your bag, they look through it, you go on your way.
— by Betsy Chapman '92, MA '94
Recent Posts
August 7, 2020

August 6, 2020

August 5, 2020