Main Content
It was a wild weekend here. We got a sizeable ice storm in the early hours of Sunday, which has caused a lot of hassles for Winston-Salem. The Winston-Salem Journal reported that there were 100 roads blocked by downed trees yesterday, and there are a lot of people out of power, including students at the Deacon Place apartments just off campus (and a fair number of staff and faculty).
Duke Energy is the company that has to restore power to all folks in our area. They have crews working as quickly as they can to restore power. Unfortunately, Wake doesn't control when the power goes back on, so we have to wait and see.
While we suspect that most students who have lost power at Deacon Place (or in off campus residences) might well bunk with other friends they know, the Offices of Residence Life and Housing and Campus Recreation have emailed all our off-campus undergraduate students to offer them shelter tonight if needed. You can read that email here.
In non-ice news, today is FDOC, the First Day of Classes. I have heard from a number of students about wanting to make changes to their schedules. There is always a lot of movement in the first few days of class, as students drop what they have and add others, so be patient and check WIN often for openings. Students who are already on wait lists need to keep an eye out on their WFU email accounts because they will get an email saying a spot has opened. Lots of registration info and how to's here: https://registrar.wfu.edu/registration/registration-how-to/
Finally, President Hatch sent out a welcome message as we begin the semester. It is a wonderful message, well worth your read. But I have to confess that this is the paragraph that jumped out at me:
"One opportunity to pursue the development of character is coming up next month. On February 1-3, Wake Forest and the Oxford Character Project are co-sponsoring an international conference on "The Arts of Leading: Perspectives from the Humanities and Liberal Arts." The conference will start with a special interview and performance by Renée Elise Goldsberry, the Tony Award-winning star of "Hamilton," on Friday, February 1 at 6 p.m. in Wait Chapel. The conference will continue with scholars from Wake Forest, Oxford, Harvard, Stanford, Penn and Duke, among others, exploring what the liberal arts can teach us about leadership. I invite all of you to partake in this exciting event."
I have to use shouty caps because ANGELICA IS COMING TO CAMPUS! To my Hamilton fans in the Daily Deacdom, I don't think I have ever told you this but Angelica is my absolute favorite! While I have not had the good fortune to see Hamilton, I am overjoyed to have the chance to sit in the same room as Ms. Goldsberry and listen to her keynote address and performance. Work!
Hope your Deacs will take advantage of this opportunity. This will be an extra sweet bite of the Great WFU Smorgasbord 🙂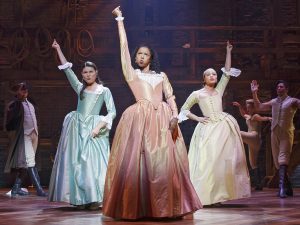 — by Betsy Chapman '92, MA '94
Recent Posts
August 5, 2020

August 4, 2020

August 3, 2020