Main Content
Major/minor declaration week is coming up February 4-8. Typically this is when our current sophomores (and the occasional first-year or junior) officially select a major. Once a major is declared, students get a faculty adviser in their major.
Some students have a crystal clear image of what they want their major to be; others, like my best friend from college, really waffled up until literally the last minute. There is not a right or wrong in choosing a major – you have to choose what is right for you.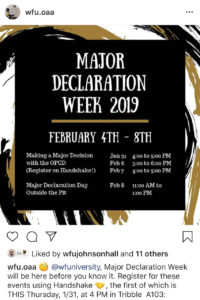 There are a number of workshops coming up to assist students with this process – as shown in the graphic (click to enlarge). The first is coming up on January 31st.
Also want to remind that student adviser applications are out right now. Having a great student adviser can be a tremendous support to our new first-year students. If your Deac has a heart for helping guide and mentor new students, they can check out the application process.
Know that there is worrisome winter weather for a lot of the Daily Deacdom in the midwest and northeast – crazy cold temps and lots of the white stuff. Stay safe and warm, my friends.
— by Betsy Chapman '92, MA '94
Recent Posts
August 7, 2020

August 6, 2020

August 5, 2020