Happy humpday, Deac families! Hope you are having a great week. Today is Halloween and if your Deacs were in Alumni Hall, they would have seen some pretty spectacular Halloween costumes, as some of our staff really went to town on costumes: we had Snow White and the Seven Dwarves, the Lion, Tin Man, Scarecrow, and Dorothy from the Wizard of Oz, along with many others.
I have had a couple of families of juniors abroad ask me about the process for students to select housing for the spring semester. Students who are abroad this fall received a message from Residence Life and Housing earlier this week (see here). The message said that for the Spring 2019 Semester, we anticipate being at full capacity. As such, Residence Life and Housing is encouraging students who are interested in living off campus to submit a petition to be released prior to the deadline. To petition to be released, students need to visit the housing portal (WIN<Virtual Campus<Residence Life and Housing) by 11:59 p.m. on Friday, November 2, 2018.
Students abroad in the fall sometimes are dismayed to discover that when they come back to campus in the spring, they have to fill in a bed in an existing room (because a student decided to go abroad in the spring, transferred, needed a medical leave, whatever the reason). While this year there will be some open doubles because Taylor Hall is being renovated, the majority of open spaces on campus are going to be filling beds in existing rooms. So for students currently abroad who are very picky about who they live with, they may want to apply to move off campus and they can get the roommate of their choice in whatever apartment or rental house they want. If students want to stay on campus, they need to understand that they may get lucky and get a double, but there are not a ton of those.
For those who are approved to live off campus, there are a number of other properties within 1-3 miles of campus (there are a number of Crowne apartment complexes which are relatively new) and some older options off Reynolda Road, as well as rental houses. In addition, many young people have moved into apartments downtown because they prefer to be within walking distance of coffeehouses and restaurants and such. The email from Residence Life and Housing has more details, but I wanted to give you the scoop here.
And because it's Halloween and I am a sucker for a beautiful full moon, here are more of Ken Bennett's great pictures. Enjoy!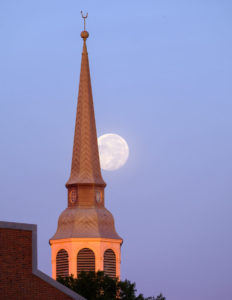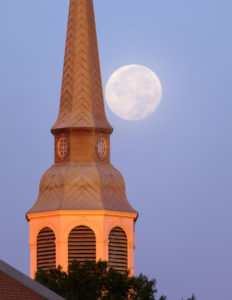 — by Betsy Chapman '92, MA '94