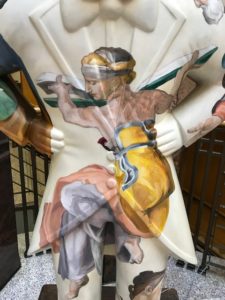 Here's a Throwback Thursday story for you, folks. I was in the Benson Center yesterday and in the atrium I saw one of our Deacons on Parade. Your Deac may walk by this every day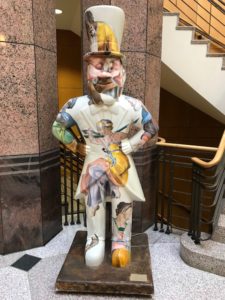 , but do they know the story behind it?
Back in 2001, the University did a Deacons on Parade, like the Cows on Parade of Chicago.  We held a design contest for 20 Deacons, each decorated by students (either individually or in groups).  Some were from the undergraduate college, and each of the professional schools had one.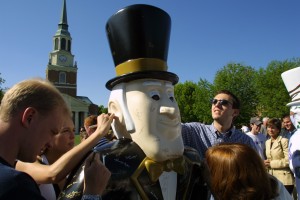 While most of these Deacons on Parade were auctioned off (with the proceeds benefiting the last capital campaign), there are still a number of these Deacons on campus.  So in the vein of Where in the World Are Wake Foresters?, I will tell you that in the Porter Byrum Welcome Center, there is a Deacon in the corner of the ground floor.  It was the Signature Deacon, which every student on the Quad at our big celebration was invited to sign (see photo at right).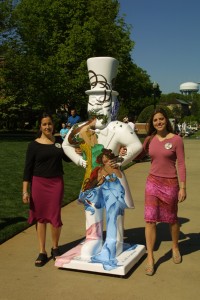 There is a Deacon in the library.  I cannot remember the proper name, but it might have been the Mucha Deacon, based on the works of Alphonse Mucha and his beautiful Art Nouveau women.  The Deacon was done by hand by two amazing young women, seen here in this picture.  The Deacon in the Benson Center was a tribute to Michelangelo, if memory serves.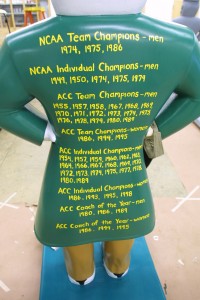 Because of Wake's long history of golf prowess, the Alumni Office sponsored a Golf Deacon. He work the signature green Master's and had a club in hand. The back of the Golf Deacon had all the major stats to date for Wake Forest golf.
Down below are a couple of shots of all of the Deacons on Parade. There were 20 total, and you can click on the picture to enlarge.  Note the concrete sidewalks; this was before the Quad got its beautiful brick walkway.  You'll also notice the giant magnolias flanking Reynolda.  We used to have two grand magnolias there, but the one on the left was failing to thrive, and it was  they later were taken down when the Quad was bricked.
Finally, I had been holding on to a number of Where in the World Are Wake Foresters pictures until I had several I could post at once. Today we are deviating a bit in that not everyone is in WF apparel, but they are still great shots.  We have Eloise and Jeff Davis P'18 and daughter Elisse '18 at their family reunion, sophomore Reed Pernat '20 from his semester abroad in New Zealand, and juniors Emma Williams '19 and Libby Parrish '19 from last semester abroad dogsledding in Finland.  Hope you enjoy. And if you want to send us a picture of where you are in the world (whether that is on vacation, volunteering, or a cherished spot in your hometown, you can email to parents@nullwfu.edu and let me know you give permission to use your names/P years.
NOTE: for reasons I can't seem to solve, if you click on the parents@nullwfu.edu above, it might give an extra @sign which will invalidate the email address. If so, just type it is (rather than click it as a link) and hopefully it will go through.