I was up in Farrell Hall this morning in the 10-11 am hour, and the joint was jumping. No shortage of students who were out there doing everything from studying to eating breakfast to surfing the net on their laptops. The place was filled with the comforting smell of warm bagels and coffee. I have to confess I have not been out and about as much – between the cold weather and reports of flu, I have been holed up in my office a lot. Just like you, I can peek at the Quad Cam and get a look at campus as needed.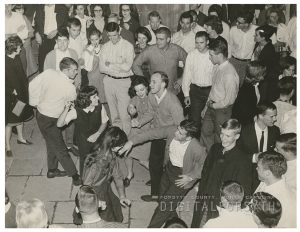 The ZSR Library enewsletter hit my inbox this morning and it had an amazing picture suitable for a Throwback Thursday. It was captioned "Wake Forest students dancing in defiance of a ban on campus dancing, 1966." Thought you might get a kick out of that. I wonder if your Deacs can even conceive of the fact that there was a time on campus when dancing was outlawed (and women could not wear pants).
Do you have a student who is into graphic novels and comics? I found out today there is a Graphic Novel Book Club and they hold monthly events.  Who knew? Now we both do!
Finally the Intercultural Center announced Black History Month activities. There are a TON of great activities your Deacs can participate in this month; check out the calendar and take another bite from the great Wake buffet.
Wake Forest's Intercultural Center and the Black History Month Committee presents the 2018 Black History Month events and activities.
Kicking off the month will be this Thursday, February 1st in The Pit featuring notable University black alumni displays and cuisine from the African Diaspora. The event will start at 6 p.m.
Other events and activities planned for February include the Black Professionals Forum with alumni; a keynote from Margot Lee Shetterly, author of Hidden Figures; a trip to the Harvey B. Gantt Center for African-American Arts & Culture in Charlotte, NC; as well as several Wellbeing Wednesday events; and much more.
For more details, visit interculturalcenter.wfu.edu/bhm2018.