Pretty sure I am not the only one who woke up late this morning. My hometown team of the Eagles won lastnight, and I am really glad the game is over, because my P'92 in a Phili suburb was going out of her mind for most of the game. Congrats to both the Eagles and the Pats – that was a really fun game to watch, and both teams were superbly matched.
Today wanted to make a reminder about the Margot Lee Shetterly (Hidden Figures) visit tomorrow evening; the keynote is the only event still open, see  http://shetterly.events.wfu.edu/ for details.  There will be a follow up discussion about her visit on Thursday from 5-6 pm (see graphic at right).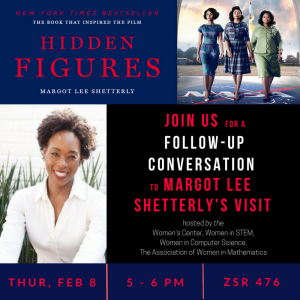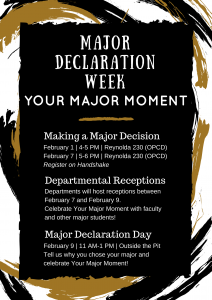 Major/minor declaration is coming up soon, as shown in the graphic at the right.
Also, there is a wonderful summer school option for students who want to work towards their foreign language requirement in Spanish. Details below.
---
ISLI (Intensive Summer Language Institute) Program in Spanish during Summer Session I
Does your son or daughter have a heavy course load during the semester, or for any reason may need/want to fulfill their language requirement in Spanish in five weeks during the first
summer session? Share with them this learning experience!
An intensive language program to allow students to take SPA 153 & 213 together in Summer Session I.
Eligible students must have completed SPA 112, SPA 113, placed into SPA 153 or SPA 154, or want/need to retake SPA 153.
7 credit hours total, 4 from SPA 153 and 3 from SPA 213.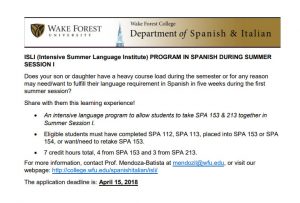 For more information, contact Prof. Mendoza-Batista at mendozil@nullwfu.edu, or visit our webpage: http://college.wfu.edu/spanishitalian/isli/.  The application deadline is: April 15, 2018