I'm back from my event and it seems like this week has lasted a year. Let's jump right into the tough stuff.
We've tried to keep parents and families informed of the status of the shooting investigation as those details are released to us from the Winston-Salem Police Department. My colleagues and I have tried to respond to your emails and messages as quickly as we can, but ask for your continued patience as we are working through lots at once.
Couple of reminders it seems important to make.  As a general rule, any emails that go to all students, faculty, and staff get posted on the Family News site. Some have asked me why parents can't get emergency text alert messages in the same time that students/faculty/staff receive them; that information is covered in the safety section of our FAQ. Families can sign up for emergency alerts via Wake Ready web site – those get published daily at noon if an alert has gone to campus in the previous 24 hours.
And I thank you for your continued thoughts and prayers for Mr. Baker and his friends and loved ones.
So, looking at some of the things not covered during my time away from the office.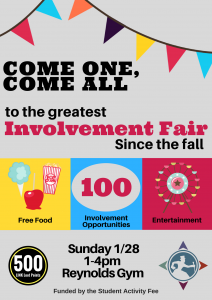 There will be a Student Involvement Fair this Sunday from 1-4 pm in Reynolds Gym. This is a wonderful way for students to get involved in new organizations, broaden their friend network, and find meaningful involvement.
Residence Life and Housing will have a booth at the Involvement Fair. Please encourage your students to stop by if they have any questions about becoming a Resident Adviser, etc.
The School of Business is hosting a number of events in February for first-year students considering a business major. There are number of drop-in advising options (those augment – but will not replace – meetings with students' lower-division adviser in March).   See details.
The Center for Global Programs and Studies encourages rising sophomores, juniors, and seniors to apply to the Global Village Living Learning Community by February 12. The Global Village LLC is an excellent opportunity for globally-minded students of all backgrounds and experience levels to live together while taking a course and participating in engaging student-led activities around a global theme.
A lot of interest in the Hidden Figures event coming up in February. People can register to attend at this link. Am told there will also be a showing of the movie Hidden Figures, but date and time are not yet set I don't believe.
One more bit of randomness: heard a highly-placed campus leader talk today about how to coach students who are experiencing setbacks (of any sort – academic, social, etc.) This person's strategy was to tell the struggling student "You know at some point it's gonna come back to you ["it" being whatever they are struggling in]. Just be ready for it when it does."  In other words, keep plugging away and doing the right thing, and you'll get back on track. I liked that so much and am glad this person is here to help nurture our students.
Finally…it's Friday. You know what to do: call your Deacs today and have a conversation with them. Tell them you love them.
I wish all of you in the Daily Deacdom a safe, healthy, and happy weekend.