Main Content
There is a great story on the Wake Forest web site today called Priceless, which is about the student art-buying trip and the collection that has been built over the years. Highly recommend that you read it.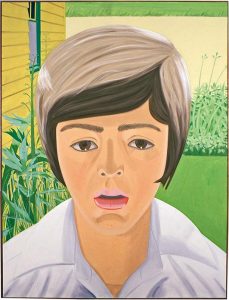 At the end of the story, you can see some of the artwork in the collection. I had to chuckle because one of the pictures is called Vincent with Open Mouth, and it used to be in the Green Room (the big first floor great room in Reynolda Hall just off the Quad). My late P'97 dad, who was not an art connoisseur by any stretch of the imagination, always found that to be a baffling picture and a baffling title. It's a big painting 96″ x 72″ and it made a statement.  It's not hanging in the Green Room anymore – in the same way that there is no longer green carpeting, which I always thought was where the name "Green Room" came from – but in my mind it's still there.
Hot weather today and lots of sun, but rain is on the way – plus there is Nate, the newest hurricane, who I hope will stay far away from all the places that don't need any more weather trouble.
And to close out this fine Black and Gold Friday, I want to tell all my Deac families that you never cease to make me happy! After yesterday's blog "Things One Should Learn in College," a number of you wrote in with some suggested ideas to add to the list, and they were good and wise suggestions indeed.  Here are your additional ideas:
Things one should learn:
The importance of receiving grace so you can fully share grace with others.  Accepting the kindness of others (and being more tolerant of ourselves) equips us to better help others….It's the philosophical version of 'put on your oxygen mask before assisting others.'
The more you lose yourself in something bigger than yourself, the more energy you will have – Norman Vincent Peale
Slow down. Be actively present – with people, your environment, your food.
To create one's own world takes courage – Georgia O'Keefe
Take into account that great love and great achievements involve great risk. – Dalai Lama
Smooth seas do not make skillful sailors (or its cousin "A boat is safe in the harbor, but that is not the purpose of a boat").
We can complain because rose bushes have thorns, or rejoice because thorn bushes have roses.  – Abraham Lincoln
Always listen twice as much as you speak.
And I thought of a couple of my own additions as well:
Be as nice to the person at the bottom of the org chart as you are to the person at the top. [A lesson I learned from the late, great, and still much loved and missed Coach Skip Prosser]
Be kind whenever possible. It is always possible. (credit to the Dalai Lama)
Many, many thanks to all our Deac families who sent in their suggestions, or just said a kind word about yesterday's blog. You have ended my week on a happy note. Remember to call your Deacs and tell them you love them 🙂
Recent Posts
August 5, 2020

August 4, 2020

August 3, 2020