Main Content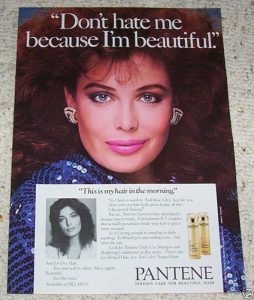 Here's a flashback to the 80s, Deac families – who remembers this?
Today is one of those days where Wake Forest could easily say "Don't hate me because I'm beautiful."  It is a glorious, glorious day.  
The sun is out, it is getting warm – and the 5-day forecast looks quite promising.
I had lunch at Shorty's today and it was packed.  I could see from my table that there were tons of students outside on the patio eating there enjoying the sun.  There was one big table of guys (or at least it looked like all guys from my vantage point) and a bunch of students (mostly girls) sitting on the wall. Everyone seemed really happy, which is easy to do when it's Friday and the weather is this good.
Heard from a few students that there is sorority initiation this weekend.  Have no idea if that is all groups or just some of them.  I remember bringing Class of '27 to campus a few years ago when it was initiation, and we saw a group of young women all wearing white dresses [for their group's initiation] and '27 asked me if there was a wedding because they were all wearing white 🙂
Couple of things on the horizon to make note of:
There is an upcoming info session for the Master of Science in Business Analytics (MSBA) – this would be geared towards the analytical, computational seniors looking for their what's-next-after-WFU gig.  Details: MSBA WFU Information Session_Feb 23
There is a Study Smarter, Not Harder workshop (see pic below).
Hope your Deacs get outside a lot this weekend and enjoy the lovely weather. Wishing you all a good weekend!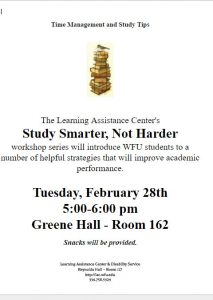 Recent Posts
August 12, 2020

August 11, 2020

August 10, 2020