Happy warm Wednesday, Deac families. We're close to 60 degrees and sunny today, which certainly makes me feel good.
For those of you with younger students at home, today's Daily Deac is just for you.  First up – the Summer Immersion program:
"The Wake Forest Summer Immersion Program is a life-changing experience that gives high school students the chance to try out potential careers, experience college life, make lifelong friends, and establish connections that will make an indelible impact on their future.
With nine institutes to choose from, there's something for everyone! Whatever the dream, we have a program that allows high school students to dive in and experience the real world this summer."
While the Summer Immersion program is in Charlotte (and is not residential, so students would have to have their own lodging and transportation), the Academic Discovery Institute is a residential program on our campus:
"Spend two weeks this summer at Wake Forest University discovering how to change the way you learn, the way you think, and the way you lead. Wake Forest professors will teach you to explore complex issues and cultivate your potential to develop effective solutions. Engage in hands-on learning and inspiring conversations with like-minded peers. Sharpen your critical writing and research skills. Throughout the program, students will explore complex issues with opportunities to develop effective solutions to problems."
Both of these could be wonderful options for your high schoolers.  If you have an interested student, please share.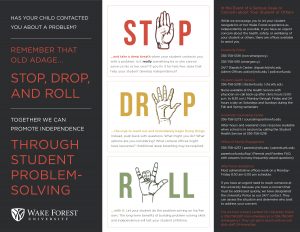 And here is an article that I saw the other day and posted on the Parents and Families Facebook page.  It is entitled "My Son Applied to Colleges Alone: A Cautionary Tale."  It is worth a read.  The author of this article really lived out our Stop, Drop, and Roll philosophy of letting students gain independence through problem-solving on their own.
And a confession: as a mom who does parent/family relations for a living, I still find I have to fight against the urge to help my '27 Deac – when do I remind? assist? nudge him along? So Stop, Drop, and Roll is for me too 🙂