Main Content
Today is a bittersweet day on campus.  Our Deacs went to the College Cup finals in Houston and they played their hearts out.  The game went to two overtimes and then penalty kicks.  Stanford edged us on the PKs and got the victory.  While I felt bad for our guys because I imagine they were disappointed, you could not have asked for a more thrilling game.  They gave it everything they had and left it on the field, and they ought to be proud.  All of us are proud.  Heads high, team. You gave us a brilliant, magical season, and so much joy along the way.  We love our team unconditionally, always.  Many thanks especially to our seniors. I hate to see you all graduate.
Today also marks the start of finals.  Send your Deacs some extra TLC during this stressful time.  Late Night Breakfast is tonight in the Pit from 10-midnight, so tell them to come carb up and feed their bodies for the studying.
In other topics, the OPCD (Office of Personal and Career Development) has come out with some information about activities next semester, and things your Deacs might consider doing over winter break. See below.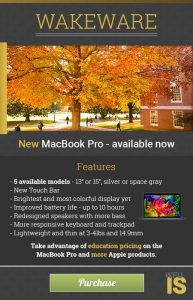 And if you are looking for a holiday gift of a laptop, the Wake Ware program now has a Mac Book Pro option.
—————————————–
UPCOMING EVENTS
The Office of Personal and Career Development would like to share the following Spring 2017 opportunities for WFU students to learn about job/internship opportunities, meet with employers, and network with alumni! We encourage students who might have an interest in attending these to:
Purchase business attire while they are home on winter break;
Begin to research industries and organizations for which they have an interest;
Have their resume reviewed by a Career Coach as soon as they return to campus;
Update their Handshake profile to ensure they don't miss important opportunities;
Watch for opportunities posted in Handshake during the winter break; and
RSVP for events via Handshake!
Career Fairs:
Spring Career Fair: 18, 2017, Noon-4 p.m., Benson 401
Health Professions Fair: March 30, 2017, 11 a.m.-2 p.m., Benson 401
Networking Events:
STEM Slam: 8, 2017; 6 p.m., Farrell Hall
Creativity Slam: 15, 2017, 6 p.m., Scales Fine Arts Center
Go to Market Opportunities/Career Treks:
New York City Career Trek (Media & Communication, Digital Marketing, Sports Marketing): March 8-10, 2017
Career Education Events/Workshops
These are a few of the upcoming events; students should monitor Handshake for events and to RSVP:
Internship Search Strategies: Wednesday, January 25; Tuesday, January 31; Thursday, February 9, all at 4 p.m., locations TBD (see Handshake)
Making a Major Decision: Tuesday, January 31; Wednesday, February 1; Thursday, February 2, all at 4 p.m. in Reynolda 230, OPCD
Dining Etiquette: Thursday, February 23, 5:45 – 7:30 p.m., Magnolia Room
Finance Careers Colloquium: February (Date TBD), Farrell Hall
Wake on Break: Wednesday, March 1, 4:30 – 5:30 p.m., Reynolda 230, OPCD
Experiential Learning/Internship Stipends:
Experiential learning/internship stipends are available to help offset student costs for unpaid summer internships and/or research projects in their career field of interest. Students can request up to $3,000 in their application. All rising sophomores, juniors, and seniors are eligible for the stipend. Students are not eligible to apply if they are receiving funding from another source. A general application will be launched February 2017 at http://career.opcd.wfu.edu/grants-for-students/.
Students should stay attuned to Handshake and emails from OPCD for further details on these and other exciting events!
Recent Posts
August 5, 2020

August 4, 2020

August 3, 2020