T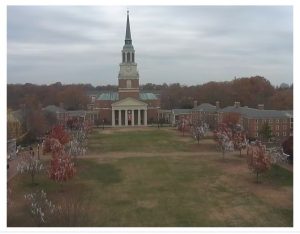 he Thanksgiving break is over. It really looks like fall here today – it's grey and overcast, it is fairly cool (the 50s), and lots of yellow and brown and orange leaves on the ground.  Screen cap from the Quad cam here.
The rolled trees, I have to believe, are from the post-game celebration of our men's soccer team winning 2-1 yesterday at a blustery game against SIUE.  Standout Jon Bakero scored both goals and was in fantastic form, as were all our Deacs.  The guys are now set to take on Virginia Tech this Saturday.
Trying something new in the Daily Deac today – a poll.  Thought it might be fun to give you something to react to, and this is something some of my peers at other schools do.  So take this quick one question poll about Thanksgiving, and let's hope I coded everything right and can show you the results in a day or two.
After a pretty long [accidental] hiatus for most of November, there's a new Weekly Message for First Year Families up today, this on the subject of the holidays.
Your Deacs are back to the grind, and so are the rest of us.  Make it a great week, Deac families!