It's a short week on campus due to the Thanksgiving holidays. And because of the spirit of what Thanksgiving means, this week's Daily Deacs will be about gratitude – with a few other things thrown in for good measure.
I am grateful for our motto of Pro Humanitate (for humanity) and the spirit of taking the education we get at Wake Forest and using it – in whatever way feels most natural to our own gifts and talents – for the good of others.  Your students have an opportunity to get involved in a leadership fashion with Pro Humanitate Day. This is from an email calling for volunteers:
Annually, Wake Forest Volunteer Service Corps, along with the Pro Humanitate Institute and University Advancement, hosts a day of service for all students, faculty, and staff interested in helping our community of
Winston-Salem. Through teamwork, collaboration, and engagement, our students gather together to learn, serve, and reflect on the true meaning of our school's motto: Pro Humanitate.
This year, PHD will take place on Saturday, April 22, 2017. With 400-500 student participants, one person cannot simply plan this incredible event alone.
We are looking for student leaders to serve on the planning committee for Pro Humanitate Day. You can find more information about the event as well and a list of leadership positions and brief explanations of their responsibilities in the attached link. Please keep in mind the application is *due* *November 23rd*.
Pro Humanitate Day Student Leader Application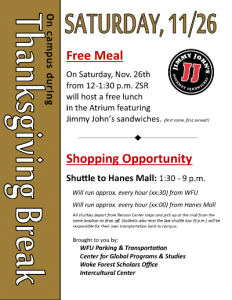 I am thankful to Parking and Transportation, the Center for Global Programs and Studies, the Wake Forest Scholars Office, and the Intercultural Center for offering food and transportation options for students who are staying on campus for Thanksgiving, and also to ARAMARK for providing the option to buy meal packs.
This is less about gratitude, and more about plain old joy: happy that our men's soccer team is continuing in the NCAA tourney and for the online viewing options (check out wakeforestsports.com on game day – this Sunday the 27th.)
I am grateful to each one of you who reads the Daily Deac!  Thank you for reading, because it allows me to do work I love. It's an honor to connect you to a tiny piece of your Deacs' experiences every weekday.
You make my work life fun – and I mean that from the bottom of my grateful heart.