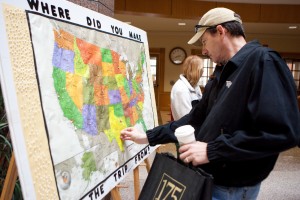 We want to wish all our Deac families a wonderful weekend on campus for Family Weekend!  A few thoughts on making the most of the weekend:
Keep your plans fluid.  Your students might waffle until the last minute in terms of deciding what they want to do.  Roll with it.
Consider including any hallmates/friends/suitemates whose families can't be here.  It can be a lonely Family Weekend if your own family can't attend – so add a person or two and it will make their weekend.
Wear your black and gold to the football game.  Cheer hard and stay all the way through.
Be sure to explore campus – take some walks to Reynolda Village, see the leaves and the fall foliage.
Sample local restaurants.  We have some suggestions here in our Dining FAQ.
Speaking of food, if your student is running low on food dollars, you can stop by Reynolda Hall room 12 to get more or go to our website at www.wakeforest.campusdish.com to do it online!
Have fun.  Hug your Deacs and tell them you love them.  My dad used to slip me an unexpected $20 on his way out the door with a hushed 'don't tell mom'.  That's nice too 🙂
Enjoy every minute!
PS – The Office of Parent Programs will be tied up in activities all day today, so we won't be at our phones or getting emails except very sporadically.  We'll respond to messages as soon as we can.
— by Betsy Chapman