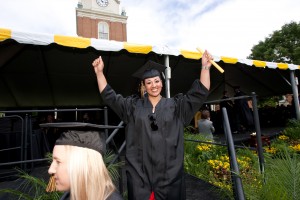 Welcome, Wake Forest graduates and families!  Commencement weekend is here, and we know this is a weekend y'all have been thinking and dreaming about for a long time (maybe even from the time your students started filling out their college admissions applications!)  Four years have passed and now it is their big day.  What a joy and a privilege it is for us as administrators and faculty to celebrate their success and their transition to Life After Wake Forest.
Because we have a lot going on today, the Daily Deac wants to hit a few highlights.
Jill Abramson, former executive editor of the New York Times, is still our Commencement speaker.  If you've been following the news, you know there has been a great deal of national conversation about Jill Abramson in recent days following her departure from the Times.  There is tremendous interest in both her and her message, and we anticipate a significant number of national media present to cover the ceremony. President Nathan Hatch said it best, when confirming her plans to speak yesterday: "I cannot think of a better message for the Class of 2014 than that of resilience. Jill Abramson's accomplishments speak for themselves, and I am confident she will have an inspiring and timely message for our graduates."
Can't be on campus but want to hear her speech (and the ceremony)?  Watch the livecast online.  Please share this link with family and friends who cannot attend.
#WFUGrad – We want you to share in the Commencement excitement by joining in our social media efforts.  There will be some of our staff members present at the Baccalaureate picnic, Commencement morning (7-8:50 am) and post-ceremony.  They will have #MyWakeForest boards, and they would love to have you and/or your students share their WFU memories on these boards.  They will take pictures (with your cameras and ours!).  Some of these will end up on Tagboard, which will be displayed prior to Commencement on the big screens (7 am-8:50 am Monday morning).  We encourage you to live Tweet throughout the event and use the #WFUGrad hashtag when you do.  
Do you know where to follow our social media posts?    @WakeForest1834 on Twitter.  @WFUniversity on Instragram.  WFUniversity on Facebook.  Because the Parent Programs office is so busy during Commencement, we won't be updating our own Facebook and Twitter as much, so be sure to follow these others.
The Commencement web site is your comprehensive resource – if you have questions, look there first
—————-
Finally, some tactical thoughts.  Parents of graduates, please pay attention to these (just in case your student is so excited and/or returning from the beach that he/she forgets to do some of these!)
Graduation ticket pickup:  Tickets are not mailed.  Students can pick up their ordered tickets and parking passes in front of the College Bookstore on Friday and Saturday, May 16 and 17, from 9 a.m. until 4 p.m.  Please be prepared to show ID.  The Bookstore will be open both days for cap & gown distribution.
PLEASE urge your students to line up on time for Monday morning!  This is very important.  Every year we have some students who show up right as the processional begins, or even 15-30 minutes later.  You do not want to have your student's name not read because he/she has not reported for graduation at the right place and time.  Graduate Assembly Instructions are posted online.  In addition, informational emails from the Office of the University Registrar are sent as the graduation ceremony approaches. Make sure your students read these carefully and respond appropriately.
You might say a word to your students about alcohol and the ceremony.  Alcohol is not allowed in the ceremony, and if a student arrives with it, it will be confiscated.  Regrettably, every year we do have a few students who arrive at Commencement and seem intoxicated.  Students can be removed from the processional for their own safety if they are intoxicated.  Please urge your students to show up for Commencement in good shape.
Check campus weather. Graduation exercises are held outside and last less than three hours, but temperatures in May can vary widely.  Take note of the rain plan (and hope we don't need to use it!)
Be aware of arrival instructions and Commencement logistics for families.   The Daily Deac also did an April blog post with a  reminder about some of the other practical matters.
If you need a copy of the Commencement Weekend booklet for the weekend, download the PDF here.
Travel safe, and bring good weather!