Main Content
Homecoming officially starts on Friday for alumni, but for students they've been enjoying activities all week. Today's Daily Deac is going to feature events that happen on Thursday, September 20th that should be tons of fun for your students.
From 11 am-12 noon the documentary Amazon Gold will be shown in Pugh Auditorium. Two war journalists and a biologist explore how illegal gold mining has devastated the Amazon rain forest in Peru. Their journey reflects on the loss of biodiversity by deforestation of the rainforest.
From 12-2 pm, Student Union will be handing out Sweet Teas and Arnold Palmers to students on the Magnolia Quad to get them excited about the Homecoming events over the next several days. If you aren't familiar with an Arnold Palmer, it's a drink that is half tea, half lemonade, and 100% delicious.
At 4 p.m. there will be a "Humanities for the Common Good" lecture. Karen Pinkus, Professor of Italian and Comparative Literature at Cornell University, will speak on how the humanities are crucial to confronting and solving issues surrounding greenhouse gas emissions and climate change. Her lecture will be followed by a reception.
The Secrest Artist Series "Jamazon" will be held at 7:30 in Wait Chapel, and if your student wants to, he/she can attend a pre-performance talk in the Balcony Room with faculty member Jacqui Carrasco.
If your student is more sports-minded, there is a WFU-Boston College women's soccer game at 7 pm in Spry Stadium.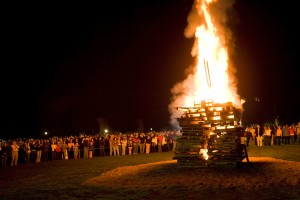 At 9-11 pm on Davis Field, we will be having our annual Homecoming bonfire where the band and football team lead the school in a pep rally and then light the bonfire in preparation for the football game versus Army on Saturday. Following the bonfire, student DJ Spurge Carter will be putting on a light show and a concert for the students.
And this isn't everything! More on the calendar here.
Recent Posts
August 12, 2020

August 11, 2020

August 10, 2020