Main Content
The Daily Deac is a big fan of the ZSR Library.  This week they will open this year's Library Lecture Series.  See the information below, and encourage your student to check it out!
————————-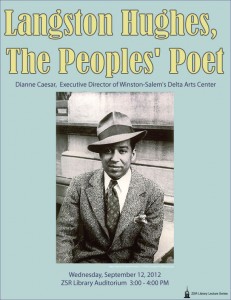 The Library Lecture Series will open for the Fall 2012 semester on Wednesday, September 12 at 3 p.m.  Our opening lecture is "Langston Hughes, The Peoples' Poet"
Ms. Dianne Caesar, Executive Director of Winston-Salem's Delta Arts Center, will speak about the life of African American author Langston Hughes, whose 110th birthday was celebrated this year.
To African Americans, Langston Hughes was and is their poet laureate. To poetry lovers and those who are also interested in social and political justice, he was and is their most eloquent advocate.
Hughes succeeded in his lifetime aim to earn a living as a writer and to create a body of work that portrays the beauty and variety of the African American experience, as well as the emotions and dreams to all human beings.
You can register for the lecture at this link.
Recent Posts
August 12, 2020

August 11, 2020

August 10, 2020