Main Content
Happy Monday to our Deac families!   If you were in Tallahassee or watching our game on TV, our Deacs took a beating from Florida State, but it's a new day and time to put the past behind us and look ahead.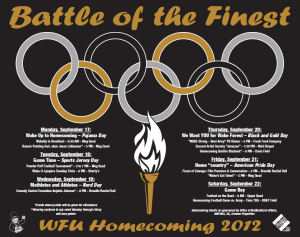 Homecoming is this weekend, and there will be a series of activities for alumni, especially those who are celebrating reunion years (people who graduated in years ending in 2s and 7s).  Student Union is also sponsoring Homecoming events, and it's a very full schedule.  Here is the full Student Union Homecoming Schedule.  They've got some creative events planned, including something on Wednesday called "Mathletes and Athletes – Nerd Day."
We're also launching a new e-newsletter for Wake Forest parents and families this week.  It hopefully will hit the inboxes of all undergraduate parents (for whom we have a valid email address) this afternoon or tomorrow.  We're always looking for ways to connect WFU families with things happening on campus, and we hope this will be a fun and informative way to see a small slice of University life.  We're interested in your feedback too – so once you receive it, please feel free to send us comments and suggestions at parents@nullwfu.edu.
Note: occasionally we send email to parents and it gets caught in your email's spam filter – so be sure to check your junk mail or quarantine folder and add us to your 'safe sender' list if the parent e-newsletter gets filed there by mistake.
Recent Posts
August 5, 2020

August 4, 2020

August 3, 2020