Main Content
One of the constant refrains of the Parents' Page is to talk about ways your students can be involved in activities on campus.  Sometimes that activity will come in the form of an observer or patron – sitting in a lecture with a guest speaker, viewing an artistic performance of some kind, and sometimes that activity will have much more direct participation.
Our offering today is from the department of Theatre and Dance.  At the start of the academic year, there are opportunities to audition for any number of performing groups and ensembles, and I found this audition schedule below via Facebook.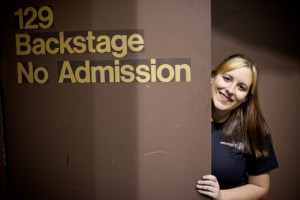 If your student has any inclination toward theatre or dance, please urge them to run (don't walk) to get involved.  Not only will these activities stretch them creatively, they will meet some of the most amazing and talented peers and faculty members.  You don't have to be a stage performer either.  There are remarkable talents in lighting, direction, costuming, and stage crew.  I have a special heart for our theatre folks, having made some lifelong dear friends there.  They are special.
And if your student is not a practitioner of the arts, urge him or her to become a supporter of the arts.  Go to concerts, view art shows, see our dance concerts, plays, and musicals.  Part of a liberal arts education is to be exposed to the beauty, magic, and wonder the arts provide – just as it is important to learn about the sciences, humanities, and other subjects.
One final thought before you read the schedule below.  Tomorrow – August 31st – is College Colors Day, where you are supposed to wear your school's colors proudly.  Even if you are not a Wake Forest alumnus/a, we hope you might choose to wear black and gold in your student's honor.  In fact, if you follow Wake Forest Parents on Facebook, we'll remind you every Friday that it's Black and Gold Friday and urge you to show your Demon Deacon pride!
——————–
From the Facebook page of the Department of Theatre and Dance:
As You Like It auditions with director Sharon Andrews. Thursday, August 30th from 7-9 pm in the Ring Theatre (after New Faces), and on Friday, August 31st 3-7pm; Callbacks will be on September 3rd 6-9pm on MainStage.
Marisol "Homeless" auditions with director Cindy Gendrich. Tuesday, Sept 4th from 6:30-8:30pm in the Mainstage Theatre. Warmup and choose homeless people and voices for the I:3 tenement scene, voiceovers, etc.
Dance Company Audition Dates will be held in Dance Studio D101. Auditions as follows:
Tuesday, Sept 11th @ 6-8pm – Modern/Contemporary
Visiting guest artists Mair Culbreth and Justin Mann
Wednesday, Sept 12th @ 7-9pm – Jazz
Dance Faculty Nina Lucas, guest artist Tina Yarborough-Liggins
Thursday, Sept 13th @ 7-9pm – Classical/Contemporary Ballet
Dance Faculty Brantly Shapiro and Chris Martin.
Please bring your pointe shoes.
Friday, Sept 14th @ 4-5:30pm – Tap Dance – Dance Studio 204
Visiting guest artists Debbie Sayles.
Recent Posts
March 28, 2020

March 27, 2020

March 26, 2020