If you're like me, you're an Olympics junkie, thirstily drinking in all the coverage you can get.  And there are some very good reasons to be tuned in – and that is we sent eight Deacs off to London in the search for glory.
You can keep up with their activities in a variety of ways.  This webpage from Athletics connects you to their bios, Twitter accounts, blogs, and more.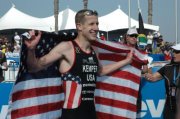 One of the more prolific Olympians is triathlete Hunter Kemper ('98), who is on his fourth Olympic games.  He's posted some links on his Facebook page about their training compound in Guildford, his training diet, and he also has a blog and a Twitter account.
As you watch the Olympics, please cheer extra hard for our Deac athletes.  They are making Mother So Dear very proud!