Main Content
This morning is gray and overcast and very, very humid.  The weather is supposed to improve as the day progresses and should end up near 90 degrees but not quite as humid.  And for our students there is reason to rejoice: it's the end of the first week of classes, and that will be a relief to have a short week as our students get acclimated (or reacclimated) to the routine of classes.
There are some stresses and pressures that come with the first few days of class, particularly if a student feels like he or she needs to make changes to his/her schedule.  Sometimes this comes after sitting in the first class and feeling like that class is not a good fit.  If your student is not already aware, there is an Open Course Report on the Office of Academic Advising page that shows seats available in courses.  If your student finds one he/she likes, then the Drop/Add process is the route to go.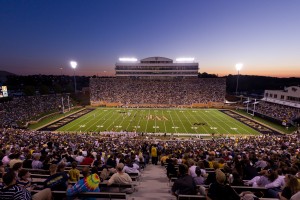 There are many good opportunities for your students to be involved in fun things this weekend.  The ZSR Library is hosting a Capture the Flag event tonight from 9-11 pm.  Reynolda House Museum of American Art is doing a Cinema Under the Stars, where students can watch The Princess Bride, one of the classic comedies of the late 80s.  Men's soccer plays Boston U. at 7 pm tonight, and tomorrow is the home opener for football, where WFU takes on Liberty at 6:30 p.m.
Finally, we leave you with one suggestion:  call your student this afternoon.  Our colleagues in Campus Life had done some research a few years back on student behavior, and it was found that students who spoke to their parents on a Friday – even if it was not overtly about alcohol – engaged in less risky behavior than those who did not talk to their parents.  So give them a call, tell them you love and miss them, that you are proud of them.  You can never hear that too much.
Have a happy weekend, everyone!
Recent Posts
January 21, 2021

January 20, 2021

January 19, 2021