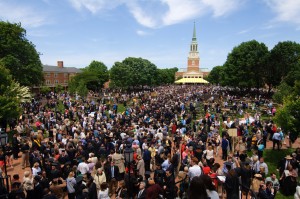 Commencement is now only a little over 2 weeks away!  The entire campus is beginning to prep for it.  As soon as the current students leave following their exams, there will be a lot of activity to help spruce up the place before the 10,000 visitors stream onto the Quad.  There will be fresh paint, meticulous care of the Quad grass, and a giant tent put up in front of Wait Chapel.  And so much more.
If you missed our recap of dos and don'ts as you pack to come to campus for Commencement, here's another link to it.
Commencement is the single best day on campus.  Pack your kleenex to wipe away the tears of pride, your camera for lots of photos, and give your student the proud hug of a Wake Forest parent!