Main Content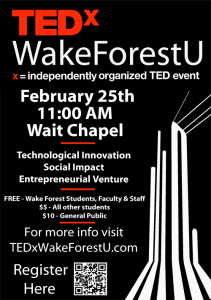 For the past two months, student organizers have been working alongside faculty members and community partners to host an inspiring day of talks from a variety of national experts.  TEDxWakeForestU occurs on Saturday, February 25th, 2012 in Wait Chapel.  The focus of the event is on technological innovation, social impact and entrepreneurship.  Experts from around the country who are working in a variety of disciplines are scheduled to speak:
Anthony Atala, Wake Forest University Regenerative medicine researcher
Chris Bashinelli, TV Host, Activist
Lynn Book, Transmedia Artist, WFU professor and Program of Innovation, Creativity and Entrepreneurship
Don deBethizy, Targacept CEO
Samuel Cochran, Solar Ivy CEO and CDO
Andrew DiMeo, NC State entrepreneurship & design instructor
Detta Famiano, Founder of Famiano Design Group
Jacque Fetrow, Wake Forest University
Peter Gilbert, Acclaimed Filmmaker
Natasha Gore, ECHO Director
Paul Laurienti, WFU Medical School / Laboratory for Complex Brain Networks
Jason Manley, Founder of Conceptart.org, The Art Department, One Big Mob, CA Social and President of Massive Black Inc.
Paúl Pauca, Developer of Verbal Victor
Mary Martin Niepold, Nyanya Project
Carl Nordgren, Founder and Creative Director of Creative Populist, Co-Founder of Minogi, and an Adjunct Professor in Creative Entrepreneurship at Duke University
Chuck Pell, Physcient CSO
Dennis Quaintance, Weaver Quaintance
Carol Strohecker, Director at CDI
The event is FREE for Wake Forest University students, faculty and staff and is $10 for all other attendees.  Attendees must reserve tickets online prior to the event.  Ticketing is only available at TEDxWakeForestU.com along with up-to-date information on the event program and other important information. The event is expected to sell out, so encourage your students to get their tickets soon!  Ticket price includes all speaking sessions throughout the day.
To stay up-to-date on conference details, check facebook.com/TEDxWakeForestU.
Recent Posts
April 9, 2020

April 8, 2020

April 7, 2020