There was a glorious, beautiful sunrise over campus this morning.  Probably most of our students missed it, sadly, but those who are early morning joggers or walkers might have seen it.  The sky looked a bit like a wonderful rainbow sherbet – oranges and lilacs and pinks – with the sun coming up large and gold and glowing.
This week was of course a short one, with classes just having started mid-week.  Having that short week is probably a nice transition for your students.  Helps ease back into the academic routine.  The weather over the next week looks like it will be a mishmash – it had been very cold here earlier in the week, like low 40s, but it is going to jump to mid 50s today, mid 60s tomorrow, then back to low 40s and then nearly 60s again.  The forecast shows rain over the weekend, but at least it will be warmer.
Our men's basketball team traveled to Durham  lastnight to play Duke.  We lost by 18, which is regrettable, but Duke is a very good team and perhaps an 18 point loss can still be construed as a moral victory, in the words of one of my friends and favorite colleagues.  Let's hope the Deacs get into a good groove as ACC season heats up.  Parents, remind your students that part of being a Wake Forest fan is to be unswervingly loyal in good and bad times.  Our student presence at games hasn't been as strong as this alumna would like to see.  If you can egg them on a bit, please do.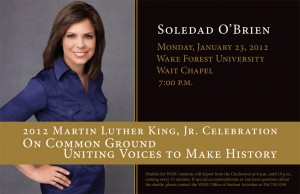 Finally, we decided to post our Weekly Message for First Year Families a little early this week.  The topic is Social Justice, and the reason we're posting early is because there is a program on Monday night at 7 pm in Wait Chapel with television journalist Soledad O"Brien – and we hope you might encourage your students to attend.  A notable speaker is always something to take advantage of, and it promises to be a good program.
Hope you and all your Deacs have a happy weekend!