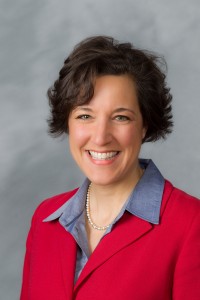 Many of the people featured in Meet a Deac say that one of the things they like best about working at Wake Forest is the people on campus.  So it is very important for us to recruit and retain the best and brightest – in faculty and staff. Christy Lennon works in Human Resources and is part of the team that helps manage our most valuable assets – our colleagues.
————————————
What is your official job title?
Senior HR Partner.
How long have you worked at WFU?
10 years.  I started my career in HR with Graylyn Conference Center, which was acquired by WFU in 2001, and transferred to HR in 2007 as an HR Partner.
In laymen's terms, what do you do at WFU?
I support the Human Resources needs for staff in several departments (Athletics, Facilities & Campus Services, Information Systems, Finance and Accounting Services, Finance & Business Services and Real Estate).  I am involved with organizational design, employee relations, performance management, staff training and development, and recruitment and selection for my areas.
How would you characterize Wake Forest students?  What are some common attributes they have?
They are fully engaged with both school and community initiatives.
What advice would you give to students?
Become an expert in a field of study that you LOVE.  You will spend a lot of your time at work someday, so you need to have a passion for your career.
What do you like best about working at Wake Forest?
The people for sure!  I love the variety of my job and all of the wonderful people that I interact with on a daily basis.
Just-for-fun questions:
Book you're reading now:  Save Me, Lisa Scottoline
What music are you listening to these days: I love The Spectrum on Serius XM.  They play great music without commercials
Favorite movie: Oh!  There are just too many!
Website you frequent: MyRecipes.com
Guilty pleasure: Pedicures
Favorite place to be on campus:  Hearn plaza when the Deacs win!
What most people don't know about you: I lived in South America for a summer.