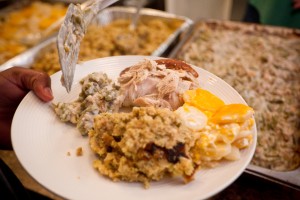 To all our Deac families, the Office of Parent Programs wishes you a happy Thanksgiving!  We hope your students are home with you and are enjoying a wonderful meal with loved ones – and if they aren't, we hope they are having a terrific meal in their study abroad program or with friends and family elsewhere.
Because it is the season of gratitude, we want to say a special thank you to all of you who stay in touch with the life of Wake Forest through the Parents' Page, the Daily Deac blog, and Wake Forest Parents on Facebook and Twitter.  It is our joy and privilege to serve the parental body of Wake Forest!
Here are a few things that we are thankful for:
Thank you for entrusting us with the education of your most precious treasures, your children.
Thank you for being ambassadors and cheerleaders for Wake Forest in your home areas, and for referring great prospective students our way.
Thank you for sharing generously of your time and treasure to help make Wake Forest be all that it can be.
Thank you for embracing our collegiate rivalries (you know who they are!) and rooting for the Deacs every time, no matter what.
Thank you for hiring Wake Forest students for jobs and internships and for promoting us within your own companies.
Thank you for believing, as we do, that Wake Forest is a place like no other!
HAPPY THANKSGIVING TO ALL!