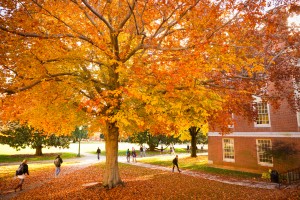 We woke up this morning in Winston-Salem to thunder and lightning, which does not happen that often.  There was a pretty strong rain around 6 am, then it fizzled out.  Right now it is simply humid and a little bit overcast, but with the promise of sunshine later.
It's the odd time in our season here where we could have temperatures in the low 80s at the start of the week and be at mid 60s by the end of the week, depending on the fronts moving through.  It's like we get a hint of fall – then a burst of late summer – then back to fall.
Speaking of fall, for those families reading who won't have reason to be on campus in late October/early November, you will be missing one of the prettiest times on campus, fall.  When the leaves are changing here, we're ablaze with the greatest and most vivid reds and oranges and yellows.  The campus landscapers have done an amazing job painting the skyline with beautifully colored trees.
Here's some of last fall's magnificence to whet your whistle.