Our Z. Smith Reynolds Library is the intellectual hub of campus and their talented staff offers a tremendous set of resources to our students.  There is a special new collection that has opened, and we thought for those Deac families who are history buffs (or whose students are history majors or minors), you might want to know about it.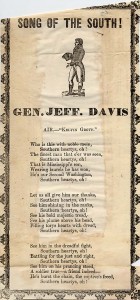 To commemorate the 150th anniversary of the Civil War, the Z. Smith Reynolds Library has contributed four collections to the online portal "Civil War in the American South." The portal includes digital versions of collections from 1850-1865 held by members of the Association of Southeastern Research Libraries. The collections contributed by ZSR are:
So, students of American history – both young and old – enjoy this fascinating look at the days of the Civil War and these digitized archives.